03 avril
Dread Nation (Dread Nation #1) by Justina Ireland
Pages : 464
Format : Hardcover
Edition : Balzer + Bray
Collection :
Prix : 15.39 euros
Résumé : Jane McKeene was born two days before the dead began to walk the battlefields of Gettysburg and Chancellorsville—derailing the War Between the States and changing America forever. In this new nation, safety for all depends on the work of a few, and laws like the Native and Negro Reeducation Act require certain children attend combat schools to learn to put down the dead. But there are also opportunities—and Jane is studying to become an Attendant, trained in both weaponry and etiquette to protect the well-to-do. It's a chance for a better life for Negro girls like Jane. After all, not even being the daughter of a wealthy white Southern woman could save her from society's expectations.
But that's not a life Jane wants. Almost finished with her education at Miss Preston's School of Combat in Baltimore, Jane is set on returning to her Kentucky home and doesn't pay much mind to the politics of the eastern cities, with their talk of returning America to the glory of its days before the dead rose. But when families around Baltimore County begin to go missing, Jane is caught in the middle of a conspiracy, one that finds her in a desperate fight for her life against some powerful enemies. And the restless dead, it would seem, are the least of her problems.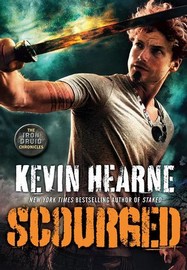 Scourged (The Iron Druid Chronicles #9) by Kevin Hearne
Pages : 288
Format : Hardcover
Edition : Del Rey
Collection :
Prix : 23.13 euros
Résumé : New York Times bestselling author Kevin Hearne returns with the finale to his wildly popular action-adventure series, The Iron Druid Chronicles.
Two-thousand-year-old Druid Atticus O'Sullivan travels to Asgard and faces off against the Norse gods to try and prevent Ragnarok in the final battle for the fate of mankind.
10 avril
The Fates Divide (Carve the Mark #2) by Veronica Roth
Pages : 464
Format : Hardcover
Edition : Katherine Tegen Books
Collection :
Prix : 18.81 euros
Résumé : In the second book of the Carve the Mark duology, globally bestselling Divergent author Veronica Roth reveals how Cyra and Akos fulfill their fates. The Fates Divide is a richly imagined tale of hope and resilience told in four stunning perspectives.
Fate brought them together. Now it will divide them.
The lives of Cyra Noavek and Akos Kereseth are ruled by their fates, spoken by the oracles at their births. The fates, once determined, are inescapable.
Akos is in love with Cyra, in spite of his fate: He will die in service to Cyra's family. And when Cyra's father, Lazmet Noavek—a soulless tyrant, thought to be dead—reclaims the Shotet throne, Akos believes his end is closer than ever.
As Lazmet ignites a barbaric war, Cyra and Akos are desperate to stop him at any cost. For Cyra, that could mean taking the life of the man who may—or may not—be her father. For Akos, it could mean giving his own. In a stunning twist, the two will discover how fate defines their lives in ways most unexpected.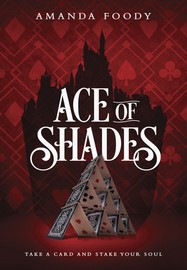 Ace of Shades (The Shadow Game #1) by Amanda Foody
Pages : 416
Format : Hardcover
Edition : Harlequin Teen
Collection :
Prix : 17.16 euros
Résumé : Welcome to the City of Sin, where casino families reign, gangs infest the streets…
and secrets hide in every shadow.
Enne Salta was raised as a proper young lady, and no lady would willingly visit New Reynes, the so-called City of Sin. But when her mother goes missing, Enne must leave her finishing school—and her reputation—behind to follow her mother's trail to the city where no one survives uncorrupted.
Frightened and alone, her only lead is a name: Levi Glaisyer. Unfortunately, Levi is not the gentleman she expected—he's a street lord and a con man. Levi is also only one payment away from cleaning up a rapidly unraveling investment scam, so he doesn't have time to investigate a woman leading a dangerous double life. Enne's offer of compensation, however, could be the solution to all his problems. 
Their search for clues leads them through glamorous casinos, illicit cabarets and into the clutches of a ruthless mafia donna. As Enne unearths an impossible secret about her past, Levi's enemies catch up to them, ensnaring him in a vicious execution game where the players always lose. To save him, Enne will need to surrender herself to the city…
And she'll need to play.

24 avril
Leah on the Offbeat by Becky Albertalli
Pages : 352
Format : Hardcover
Edition : Balzer + Bray
Collection :
Prix : 15.39 euros
Résumé : Leah Burke—girl-band drummer, master of deadpan, and Simon Spier's best friend from the award-winning Simon vs. the Homo Sapiens Agenda—takes center stage in this novel of first love and senior-year angst.
When it comes to drumming, Leah Burke is usually on beat—but real life isn't always so rhythmic. An anomaly in her friend group, she's the only child of a young, single mom, and her life is decidedly less privileged. She loves to draw but is too self-conscious to show it. And even though her mom knows she's bisexual, she hasn't mustered the courage to tell her friends—not even her openly gay BFF, Simon.
So Leah really doesn't know what to do when her rock-solid friend group starts to fracture in unexpected ways. With prom and college on the horizon, tensions are running high. It's hard for Leah to strike the right note while the people she loves are fighting—especially when she realizes she might love one of them more than she ever intended.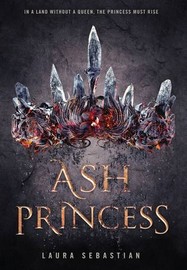 Ash Princess (Ash Princess Trilogy #1) by Laura Sebastian
Pages : 432
Format : Hardcover
Edition : Delacorte Books
Collection :
Prix : 16.30 euros
Résumé : Theodosia was six when her country was invaded and her mother, the Queen of Flame and Fury, was murdered before her eyes. Ten years later, Theo has learned to survive under the relentless abuse of the Kaiser and his court as the ridiculed "Ash Princess." Pretending to be empty-headed and naive when she's not enduring brutal whippings, she pushes down all other thoughts but one: Keep the Kaiser happy and he will keep you safe.
When the Kaiser forces her to execute her last hope of rescue, Theo can't keep her feelings and memories pushed down any longer. She vows revenge, throwing herself into a plot to seduce and murder the Kaiser's warrior son with the help of a group of magically gifted and volatile rebels. But Theo doesn't expect to develop feelings for the Prinz. Or for her rebel allies to challenge her friendship with the one person who's been kind to her throughout the last hopeless decade: her heart's sister, Cress.
Cornered into impossible choices and unable to trust even those who are on her side, Theo will have to decide how far she's willing to go to save her people and how much of herself she's willing to sacrifice to become queen.
Sky in the Deep by Adrienne Young
Pages : 352
Format : Hardcover
Edition : Wednesday Books
Collection :
Prix : 15.43 euros
Résumé : Raised to be a warrior, seventeen-year-old Eelyn fights alongside her Aska clansmen in an ancient rivalry against the Riki clan. Her life is brutal but simple: fight and survive. Until the day she sees the impossible on the battlefield—her brother, fighting with the enemy—the brother she watched die five years ago.
Faced with her brother's betrayal, she must survive the winter in the mountains with the Riki, in a village where every neighbor is an enemy, every battle scar possibly one she delivered. But when the Riki village is raided by a ruthless clan thought to be a legend, Eelyn is even more desperate to get back to her beloved family.
She is given no choice but to trust Fiske, her brother's friend, who sees her as a threat. They must do the impossible: unite the clans to fight together, or risk being slaughtered one by one. Driven by a love for her clan and her growing love for Fiske, Eelyn must confront her own definition of loyalty and family while daring to put her faith in the people she's spent her life hating.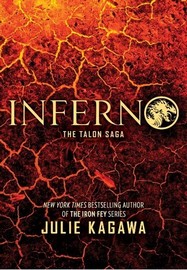 Inferno (Talon #5) by Julie Kagawa
Pages : 384
Format : Hardcover
Edition : Harlequin Teen
Collection :
Prix : 16.27 euros
Résumé : From the New York Times, USA TODAY and international bestselling author of The Iron Fey and the Blood of Eden series comes the fiery, hugely anticipated finale of The Talon Saga… 
INFERNO 
What if dragons walked among us in human form? Enter a modern fantasy of heroes, sacrifice, forbidden love and enemies turned allies who have no choice but to fight side by side… Don't miss the epic conclusion as Ember, Riley and Garrett face off against Dante and the Talon dragon clones. Join them…or burn.